Midwest Book Review
has given five star ratings to Lorina Stephens'
And the Angels Sang
, and
From Mountains of Ice
.
And the Angels Sang
is an anthology of short, speculative fiction stories author Lorina Stephens has penned over the course of twenty-five years. Some were previously published in periodicals or writers' workshops; all offer snapshots of the human condition. From the titular story of how a pious man perceives angels even as he suffers unspeakable torture and execution, to the devious negotiations of a "dragonslayer" who has more expertise at selling life insurance than wielding a sword,
And the Angels Sang
is a cornucopia of fractal glimpses into the mysterious, the fantastic, and surprises that lurk beneath the surface. Also highly recommended is Lorina Stephens' historical novel
Shadow Song
.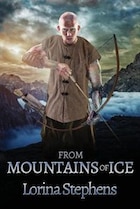 The life of a bowyer won't seem so bad.
From Mountains of Ice
tells the story of fallen noble Sylvio, as he returns to the courts of Simare and finds that he's being dragged into a world of murder and insanity. Set in an Italian renaissance inspired world,
From Mountains of Ice
is an entertaining and original fantasy from Lorina Stephens, highly recommended.
Lorina Stephens will be reading from, and signing copies of From Mountains of Ice, as well as And the Angels Sang and Shadow Song, this coming Saturday, August 28, 2010, at Chapters Bayview Village, 2901 Bayview Ave., Unit 132, North York, ON, 1:00 to 4:00 p.m.
Lorina's books are available in both digital and print format from booksellers globally, and through the Espresso Book Machine.
View Larger Map