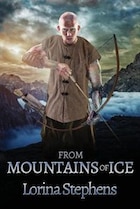 This coming Saturday, May 15,
Lorina Stephens
will appear at
Indigo Books and Music
, 259 Princess St., Kingston, ON, between 1:00 to 4:00 p.m. She will be signing copies of her latest novel,
From Mountains of Ice
, a cultural fantasy set in the Italian Renaissance world of Simare.
The novel, Lorina's fifth publication, tells the story of an unlikely hero, Sylvio di Danuto, a back-country bowyer fallen from grace, exiled, dispossessed, the former minister of security for his prince and student, Carmelo. Now Sylvio finds himself summoned back to court for the Festival de Nerezza, the annual autumn remembrance of the dead. The summons carries with it portends of danger, issued by a prince Sylvio suspects is a patricide and insane, a bone-speaker like himself and therefore a rare and potentially powerful force.
From Mountains of Ice
is available in both print and digital format from booksellers globally, as well as signed directly from
Five Rivers
.
View Larger Map